EXERCISE IMPACT IN CHIARI CASES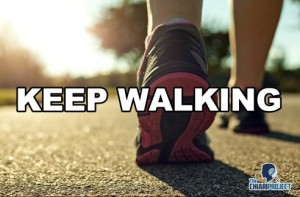 Forced inspiration or motivation of CSF(Cerebrospinal Fluid) is the biggest contribution of CSF movement. Forced inspiration helps to keep CSF flowing at a proper rate in everyone, but forced respiration may increase the flow to prevent CSF static conditions which may damage vessels. If forced inspiration can be achieved without drastic measures, this would be the ideal situation. Exercise is one way to help achieve forced inspiration. Some form of exercise is needed by everyone; however, CM patients need to be mindful of the type of exercises they do to help achieve forced inspiration. Walking has always been one of the most recommended forms of exercise for many reasons. It is an overall beneficial form of exercise to help get the blood circulating as well as tone muscles and is also generally a safe form of exercise for CM patients. When walking, always stay focused since balance and coordination are two of the biggest problems CM patients deal with. Well-padded tennis shoes should be worn when walking to avoid pounding to the neck and cerebellum. While we continue to explore other forms of exercise for those with CM, get walking to help jumpstart your exercise regimen. Walking for at least thirty minutes every day is recommended in order to get your heart rate up and increase forced inspiration.
PHYSICAL ACTIVITIES TO ENGAGE IN
The table of recommended activities to engage in for ages 8-80 is now available. This allows all ages to exercise so long as they do not exhibit any significant contraindications to exercise. Always consult with your physician before beginning any exercise program as this general information is not intended to diagnose CM or even replace your healthcare professional. TCP will educate and give suggestions about specific modalities and intensities of exercise for the different age groups with CM. Those dealing with CM will be informed on the latest news regarding exercises such as; kettlebells, rowing, weightlifting, running or cycling, gait and balance exercises and much more. TCP will continue to discover activity options for all of those individuals experiencing CM symptoms so they can achieve a healthier lifestyle. 
| | | |
| --- | --- | --- |
| Ages 8-17 | Ages 18-60 | Age 61-80 |
| Games involving chasing | Walking | Balance Exercises |
| Sports not involving head contact | Med Ball Workout | Gait Exercises |
| Climbing | Rowing | Walking |
| Walking | Kettlebell Workout | Cycle or Arm Ergometer |
|   | Running or Cycling | Nu-Step |
|   | TRX/Suspension Training | Band Exercises |
|   | Yoga |   |
DISCOVERING CM IN THE BODY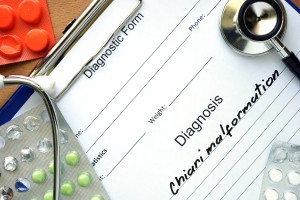 There is no way to diagnose CM without proper scanning. The two types of scans used for CM diagnostics are MRI and CT with a Cervical MRI being the best means of an accurate CM diagnosis. Without a CT or MRI, the misdiagnosis of Fibromyalgia, MS, Amyotrophic Lateral Sclerosis, Migraines or psychogenic conditions that can all cause similar symptoms, is common. CSF always flows in the human body; it is continuously produced and reabsorbed. For CM patients, the goal is to induce CSF flow and reduce blockage of the Foramen Magnum. This can be achieved by different means depending on your condition and treatment may include invasive or noninvasive treatment plans. The most aggressive form of treatment for normalizing CSF flow is surgery. The surgical procedure includes posterior fossa decompression. This procedure requires the surgeon to remove a portion of the skull to create more space for the CSF to move, and a reduction in the cerebellum using electrocauterization to decrease cerebral blockage. Noninvasive treatments help control pain and minimize symptoms and include; medications, physical therapy and exercises.
RESEARCH PREPARED BY:
UCLA School of Medicine, Exercise Physiology Research Laboratory: Dr. Brett A. Dolezal and Andrew Hamil
CONTRIBUTING EDITORS
Maria McCutchen (Editor In Chief), Jared E Katz, Ulrich Batzdorf, MD
ABOUT THE EDITOR IN CHIEF
Maria is a freelance writer and author of, "It's All in Your Head," a memoir that chronicles her journey after being diagnosed with a rare brain cyst, an Arachnoid Cyst, and later, Chiari Malformation. Maria is an active advocate for those who live with these conditions. Her goal is to help people better understand these conditions so they can live more comfortable and productive lives.
SOCIAL MEDIA         
Help create Chiari Awareness by becoming part of SMAP - Social Media Awareness Program. Contact smap@chiariproject.org for more information.
THE NEXT ISSUE  
The next issue in October will be more interactive so if you are interested in writing for us, contact tcpquarterly@chiariproject.org immediately.
UPCOMING EVENTS
November 2016 - Brain Art Event -
Los Angeles, CA

December 2016 - Golf Charity Event -
Scottsdale, AZ