CHIARI SUPPORT TEAM
Amanda Johnson – Outreach Coordinator
In this role with The Chiari Project, Amanda helps the Chiari community through social media as she manages Chiari groups on Facebook and Instagram. By increasing her social media following throughout the years, she is now able to educate and inspire with informative posts as well as entertaining memes. Amanda is excited to be serving in this capacity to help mobilize the community in a global effort to create awareness and raise funds for more pain management research.
Amanda has a background in marketing, talent, and customer service which she secured during her time at WWE (World Wrestling Entertainment). She also has a background in education as she worked as an early childhood teacher and consulted with families about their young children ages 0-5. Amanda was diagnosed with Chiari Malformation when she was 30. Although she has been dealing with the symptoms all of her life, she finally had a name for the condition.
Amanda enjoys watching her sports teams; Patriots, Lakers, Yankees, and Avalanche. She also creates awareness for pitbulls and ADEM, another rare neurological condition. Amanda currently lives in Northern California with her pitbull, Dallas. Arf! Arf!
Ashley Lengel – Director of BrainSpire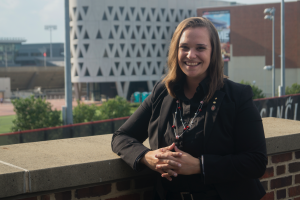 Ashley is a recent graduate of University of Cincinnati, but has struggled with chronic migraine her entire life, but felt the full effects of Chiari Malformation starting in her sophomore year of college. Since her decompression surgery, Ashley has been an active participant in the Bearcat Bands, in several student honorary organizations, and as a College of Engineering and Applied Science ambassador. She was selected to speak at UC's freshmen convocation in 2016 to speak about her Chiari journey. Ashley still suffers but plans to pursue a career as a Physician Assistant in Child Neurology to help others struggling with neurological illness. She is currently in graduate school in Houston.
She is proud to volunteer and spread awareness for The Chiari Project where she will lead BRAINSPIRE, a motivational speaking initiative for those who overcome the challenges of CM and associated neurological conditions. 
Christine Moon – Director of Holistic

Christine is a Chiari Malformation and Breast Cancer survivor and thriver based in Hawaii! While navigating the healthcare system, Christine developed her own pathway to better support other chronic illness patients with the tools she had developed. Christine is an independent health advocate who ensures patients that they will always have someone by their side to relieve the burden of mundane medical tasks and scheduling.
Christine is also an independent wellness personal trainer. She works with many populations that battle chronic conditions including; Cancer, Chiari Malformation, Multiple Sclerosis, Ankylosing Spondylitis, and Parkinson's Also, she has over 10 years of experience in public speaking to support groups facing chronic illness. Christine feels incredibly blessed to be part of The Chiari Project where she can support others as she always sends the warmest of Aloha. 🌺
Maria McCutchen – Content Editor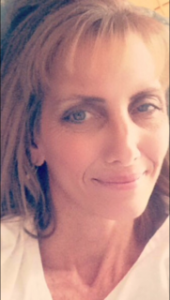 Maria McCutchen currently lives in Tennessee. She is a freelance writer and author of two books; including her memoir, "It's all in Your Head." She has been writing for many years; and for the past ten years she has been freelancing, writing articles for web content. She is an activist for those with brain cysts and Chiari Malformation. She continues to help those who live with these rare medical disorders by educating them through her articles and her book. Maria is focused to give her time and energy to The Chiari Project.
ANNOUNCING SOON – Director of Art